• Minutes from January 13, 2018

Attendees: Susan, Mark, David, Kim, Phyllis, Cheryl

Education Committee.
1. Susan Reported that she and David have set up a meeting with the Archdiocese of St. Louis, their Peace and Justice Commission, to present our program on pay day lending and alternatives. The contact person is Marie Kenyon. The date is March 15 at 6:00. If you would would like to attend, e mail Susan.
2. FYI: Brian has been coordinating the links to various articles re pay day lending.

Advocacy Committee
1. David reported that St Rose Duchesne has had 3 meetings and has voted to join the Task Force to join our advocacy efforts to promote alternatives to payday lending. They have appointed 2 church members to join our efforts. They have contacts within the Florissant City Council.
2. The goal is to put together a town hall meeting with members of the church and community to see if they are interested in this issue. The long-range goal is to pass an ordinance in Florissant, similar to the St. Louis City ordinance.

Employer Based Lending: An Alternative
1. Mark reported on the True Connect Program. He spoke with the founder of True Connect, as well as Meridith Covington, at SLU in the Policy Devt. Program. His report was previously e- mailed to the Task Force. He has another call set up to True Connect to discuss our role in the process.
2. At our next Task Force meeting we plan to discuss other types of institutions that might be interested in this alternative. (nonprofits, hospitals, hotels, nursing homes, etc.)

Potential Partners and Coalition Members: Missouri Faith Voices
1.Cheryl reported that she spoke with Reverend Cassandra Gould, the director of Missouri Faith Voices, regarding the Opportunity to Thrive Task Force (i.e. PayDay Lending) and our advocacy efforts regarding payday lending policies. She also spoke with Alice Chamberlain, the organizer of Missouri Faith Voices. Alice said there will be a meeting in Jefferson City on February 20th to voice their concerns
2 Alice asked if we could share this information with the entire JUJ mailing list to see if anyone would be interested in attending the Feb 20th meeting. David will put this e mail together. Subsequently, it was sent out to the entire JUJ e mail list.

Other Up and Coming Meetings
1. Diversity Impact Group (initial meeting was subsequently cancelled.
2. Monsanto YMCA North Martin Luther King Day (attended by Susan)
3. Metropolitan Congregation United: Susan and David will set up the meeting, per the request of the director, David Gerth
4. Archdiocese of St Louis, Truth and Justice Commission: March 15, 6:00 pm. Pls let Susan know if you are interested in attending our presentation.
5. We are waiting to hear from St Rose regarding the next step
6. We are trying to set a plan for Financial Education, with Treina Lind (Red Dough) and Veronica
7. At St Rose. (This has been accomplished., as of Feb 16 Veronica is also interested in bringing the Financial Education Program to other churches in the area.)

KUDOs to our Advocacy Committee.

NEXT MEETING, MARCH 14 2018


• Minutes from Aug 16, 2017


Present: See bottom of the Minutes.

EDUCATION
Susan informed the group that a PowerPoint presentation is available that we can use to reach out to groups that are interested in learning about Pay Day Lending .We have also started focusing on alternatives to Payday Lending, such as Lending Circles, Employers' Programs, and, of course, Red Dough.
Phyllis talked Laura Goldmeier, who has a relationship to a physician whose office is in St. Charles He urged us to try to get Red Dough information to St. Charles residents. And he suggested we ask Red Dough to open an office in St. Charles , even if only a few hours per week. Phyllis suggested a one-page version of the Red Dough brochure for a hand-out.
A question was asked whether Red Dough is sustainable. As they are associated with Prosperity Connection and were started through a generous grant/donation, it is believed that it is a stable organization. Prosperity Connections has a relationship with several banks in the area. They also offer other services like currency exchange, debit cards and more, as revenue sources. Susan said that they had checked out Prosperity Connection very carefully. We also met with their President of the Board of Directions in October 1916..

1. Sal met with personnel from the Federal Reserve who said that he wants to meet with the group
2. The group Safe Connections – survivors of Domestic Violence - has many Payday Lending consumers. We are doing a presentation there Oct 18.
Susan suggested that we need to look at Stage II of our efforts and that would include Budget education, teaching how to keep a "budget diary" to increase awareness of spending patterns. The idea is that attendees can learn how to establish an "Emergency/Rainy Day fund that is available when unexpected expenses occur. There are a number of organizations who are already providing this and our efforts could dovetail with theirs.

ADVOCACY
An explanation was given of Better Family Life, a mainly African-American social services agency, in St. Louis, very strong in North County. They work with NCJW and the PDL task force has been invited to meet with them again and come up with some ideas of how we might work together.
Based on the stats that Steve presented earlier led to the determination that we should focus on three areas, where there are lots of Payday lending businesses: Florissant, St. Charles and Fenton.
David recapped his, and Susan's meeting in Clayton with Patrick McCauly. Patrick also told them about the City Council and the names of the first two people we should contact. He also gave them a primer on the strong mayoral system of their government. Thanks to Marilyn Ratkin for the introduction to Patrick.
David further reported: Marie Kenyon identified an excellent social justice council of a Catholic church in Florissant. We visited them last week. They worked on the PDL issue some years ago when MCU and others did a ballot effort that failed. They presented it to the Parish Council and even though the main priest did not like the idea the parish council did not reject it but asked for some more information which we gave them. Thanks to Marie.
Susan Talve gave us the name of another clergyperson at AME church that she likes a lot and we will contact her. Susan thought this would be a good place to start. Thanks to Rabbi Talve.
Sal asked if should suggest to Florissant to try to adopt the ordinance – with modifications, of course – that was passed in the City of St. Louis. We are working getting a copy of the ordinance as a model for us.
Sal also pointed out that we need to tailor our messages, and levels of action depending on the audience we address.
We welcome all Task Force members to attend meetings we have with "target groups". These meetings are very interesting and informative. Let me or David know.

Minutes: Richard

Thanks to everyone who participated and they were:

Susan Roth, David Lander, Peg Blyth, Creighton Cohn, Sal Valadez, Carol Lander, Steve Birenbaum, Cheryl Perl, Phyllis Cantor, Marilyn Ratkin (via speakerphone) and Richard Gavatin


•> Minutes from June 29, 2017

In attendance:
Steve Birenbaum, Peg Blyth, Laura Goldmeier, David Lander, Cheryl Perl, Marilyn Ratkin, Susan Roth, Mimi Skolnick,

1. Municipal Regulations
Report on efforts to reach out to leaders in Florissant to determine their interest.
Marie Kenyon has put us in touch with the Justice Council and Priest of a Catholic church in Florissant. Several of us will try to attend the next meeting of this Council.
Marilyn Ratkin will connect with two people she knows to identify progressive leaders in Florissant and set up introductions for us.
So far we have tried about ten people and will continue. The goal is to introduce ourselves and our topic to community leaders in Florissant to determine if they are interested in this issue.

2. Payday Lending Presentations
Report on who we have met with to do presentations: We have met with the Jewish Family Services and did a presentation.
The head of the Jewish Food Pantry was present and asked Paul Woodruff (Prosperity Connections)to send their brochures to them.
We also did a presentation at my synagogue (Shir Hadash) which was well received.
David and Susan met with head of the Financial Education Dept at Better Family Life . We decided to meet again and explore some issues we have in common, possibly with the idea of forming a coalition.
Susan also met with Lisa Gates who does the Financial Empowerment programs for the city. She asked us to send her a powerpoint of our presentation, which fortunately, Peg offered to help with.
Finally, Sal set up a breakfast meeting for us. Present was Sal, the Head of the Civil Rights Division for St Louis, a state representative from Ward 76 and the head of the Hispanic Scholarship Council. We are hoping to continue meeting.
Research on (in process) on alternative lending resources some ideas: reserve fund for emergencies (the task force thought this was a bad idea) Lending Circles; employer based lending programs.
AND: Richard Gavatin had our Jewish Light article reprinted in the Kol Rinah Newsletter!

3. Work over the next weeks
Municipalities Meet with the church and the leaders that Marilyn is identifying. Continue to try to identify and meet with leaders.
Coalition: continue to identify evangelical leaders and other organizations that might be interested in forming this coalition on consumer finance issues. Partners
We will also:
1. Draft a brief summary of the Missouri consumer finance laws;
2. Draft a brief summary of the City Ordinance on Payday lending regulation and a list of what would need to be changed if it were presented in Florissant, or St. Charles or Fenton.
3. Talk with Cara Spencer about setting up a task force meeting in the City of St. Louis to discuss the implementation of the payday regulations.
4. Draft a think piece on the ills of payday lending and also why people take out payday loan.

Presntations
Continue to research alternative lending sources
Mimi gave the name of the person at the International Institute to contact. for a possible presentation. Also doing research on Nursing Homes
For those interested in doing presentations: I can do a mock presentation if you are interested to learn how to do this.

SAVE THE DATE;
Next meeting : Thursday August 3, 2017



• Minutes from Opportunity to Thrive / Payday Lending Task Force of JUJ on May 18, 2017.

JUJ Payday Lending Task Force Meeting May 18, 2017

Sub Task Force on Developing a Municipal Regulation of PDL Steve reported that he had researched the "spread" of the Payday Lending (PL) offices in the state of Missouri. He acquired a list of all PL offices and they can be sorted in different ways. The question was: Were we to address these issues geographically? Or by number of PL offices? The size of the cities/municipalities? Or how likely we thought that each city would be receptive to our views?

The problem with the data he has access to, is that many zip codes encompass more than one city, and some cities are "sprawled" over more than one zip code.

A complete list can be provided if requested.

Florissant and St. Charles each are near the top of the list and we decided that Florissant is the first place to start We need to reach out to churches and to progressive leaders and political allies in a very preliminary way to see if any are interested in the general topic of predatory lending and then see if this is a good place to start. If so we would start with educational sessions at churches and civic groups. We identified one person to reach out to and in addition we will talk with Marie Kenyon and Jill Shupp about other people with whom to start.

Creighton questioned if there is any way for us to know if this does any good since the relief is not very complete. We had a good discussion and concluded that although this is far from a solution it is a great place to start raising the issue and building awareness and a coalition of supporters and passing an ordinance which is useful.

Sal said that we want to highlight alternative lending opportunities, essentially a Red Dough "everywhere". Maybe we can address the banks behind the PLs if these ordinances are passed in more places. It was argued that maybe Credit Unions can be a partner.

A motion was made and seconded that we, as a priority should focus on Florissant. Per Marie Kenyon. Office of Peace and Justice at the Archdiocese, Florissant is an important Catholic hub and would be responsive to information about PLS.

Step 1 would be for the subgroup, consisting of Susan, Marie and Marilyn R to try set up an introductory meeting there and as Step 2 ask Jill Schupp about potential "friendlies" among Florissant politicians.

Sal gave us a name of the spokesperson for the Hispanic Leaders' group in Florissant, Elana Kenyon (no relation to Marie) and Sal promised to facilitate a meeting with her.

Susan informed that the local MOPirg no longer has any staff and they were a great ally.

On the education: Peg and Susan discussed the Community Investment Act (CRA), which penalizes local banks that do not invest in low income neighborhoods. This means several credit unions work with the "unbanked", and PDL is part of that. More to follow on the CRA coming soon!

2. Subtask Force on Alternatives to PayDay Loans

Two meetings have been set up: June 7 at Jewish Family Services and Shir Hadash, Reconstructionist Community, June 24.

Other possibilities

Nursing Homes (where the employees are targeted by PLs inside the actual nursing homes). It needs to be said that some Nursing homes are a tad better than others in this respect

And Food banks. Richard will contact the Jewish Food Pantry Executive Director.

Lastly, we need to check with Prosperity on the Military ordinance on PLs, which is based on Federal Law. Some restrictive rules on the PLs were instituted a few years back, and we should follow up on the effect of these restrictions.

In the meantime, Susan and David have attended several meeting and, thanks to Sal's help, have meet some political representatives and also participants in the Better Family Life project. All are interested in what we are doing.

Next Steps.

1. Sal will reach out to his contact and set up a meeting with a couple of us

2. David will call Marie Kenyon to begin thinking of church leader to contact.

3. We work to compile a list of progressive community leaders to begin the dialogue on predatory lending.

4. Someone will draft a brief fact sheet about the City.

5. Susan and Peg will continue their educational efforts

6. We will start building our community wide coalition.


• Minutes from Opportunity to Thrive / Payday Lending Task Force of JUJ on April 20, 2017.

Present: Laura Goldmeier, Henry Berger, David Lander, Sal Valadez, Creighton Cohn, Marie Kenyon, Mimi Scolnick, Susan Roth, Jerry Hochstzstein, Steven Birenbaum , Peg Blyth, Richard Gavatin

Old Business
1. Follow up on Alternative Lending Sources: Peg Blyth spoke with the loan project coordinator at Central Reform Congregation. He said they were just starting their program with 2 clients at this time. They need to give it some time to see how it works before our listing them as one of our sources of alternatives for PDL (Pay Day Loans).

2. -Places for People: to be followed by by Phyllis Cantor

3. -Jobs with Justice: Phyllis spoke with Rev. Martin, who heads the program with the possibility of collaborating with them. PDL is not one of their priorities at this time.

4. -Jewish Family Services: Peg Blyth and Susan Roth are meeting with Lou Albert, Executive Director on April 21 to discuss the possibility of doing a presentation, with Paul Woodruff, executive director of Prosperity Connections/Red Dough.

5. -We also briefly discussed a presentation with the staff that Laura Goldmeir works with.

• CFPB/Consumer Financial Protection Bureau: this task force has been put on hold for the time being. Although this is an important issue, we don't have enough committee members to work on it.
• Municipal Regulation of PDL: The discussion revolved around two issues: how to formulate the wording of our proposed regulation (narrow language or broad) and where to focus our efforts.
• It was suggested we follow up with Cara Spencer's office (Proposition S in the City) for assistance on these questions.
• Regarding where to focus, Steve Birenbaum has put together a list of PD loan shops by zip code and by location. This issue is still being discussed in terms of whether to start with a municipality with few pay day loan shops or more.
• Marie Kenyon raised an important point that where we start, we need to engage the community to be part of and perhaps lead the effort. She suggested starting with small town hall meetings to begin that process and get the community buy in and direction. She also has contacts with a parish in Florissant and we may want to start there.
• This issue is also still being discussed before a decision is made.

New Business

1. Installment Loans : material presented by Mimi Scolnick . New …. These loans give a longer pay back period and are harder to regulate, but the effects on the interest are rate are the same as PDL.

2. Discussion ensued re Alternatives to PDL, in addition to Red Dough. Apparently credit unions and some banks are giving microloans. Susan and David will discuss this with Paul Woodruff (director if Red Dough) at our April 28 meeting with him. This information may also be available at the April 22-29 STRUT (St Louis Regional Unbanked) meeting, Money Smart Week.

3. Partnerships: Marilyn Ratkin has a list of potential partners and will be working on this.

Sal Valadez suggested we explore if The Journey church, which has several locations in St Louis, is also working on PDL or interested in partnering with us. We will begin exploring this possibility as a very good start.

SO WE HAVE LOTS TO DO AND LOTS OF POTENTIAL TO MAKE A DIFFERENCE


• Minutes: Pay Day Lending Task Force Meeting: March 29, 2017
Present: Peg Blyth, Phyllis Cantor, Paul Woodruff (Red Dough/Prosperity Connection), Cheryl Perl, Susan Roth

1.Alternatives to Pay Day Lending Stores:

Paul Woodruff (Executive Director) provided information about Red Dough, including location, relationship to Beyond Housing (a Community Development Agency) and discussed their interest rates, services and Excel, an extensive financial education program. They are a not for profit 501(c) corporation.

The loan interest rate is 36% with no increase over time and no fees. The borrower needs to have two recent paystubs, two most recent bank account statements, have a bank account, have persona ID, a copy of a utility bill, a social security # and a contact phone number.

Their other services included check cashing, bill pay, Prepaid Debit Card, money orders and money transfers, tax refunds, and postage. These services are provided at lower cost than the same services provided at payday loan stores.

We also reviewed other alternatives to pay day lending stores. Cheryl Pearl spoke to CRC who said CRC has partnered with Holy Ground to provide loans up to $500 at no interest, funded by individual member contributions. At this time, they serve the immediate geographical area and plan to expand to the north side. We do not know what their underwriting criteria is or if there is an education component.

The National Council of Jewish Women, partnering with the YWCA, also provides loans up to $500 to individuals referred by certain social agencies. These are also interest free.

We also have information that some credit unions are providing low or no interest loans, but do not have information about them.

2. Potential Partners:extensive list of possible partners provided by MoPirg (Mo. Public Interest Research Group), such as Empower Missouri, Momentum, etc. We have not contacted these agencies at this time. 3. Strategy: We are planning to contact agencies and organizations that interface with employees who may need to use to pay day lending stores for short term financial aid and provide them with information on alternatives, as listed above. We have identified some of these organizations such as Nursing Homes, Home Care Agencies, food banks, health clinics, social worker counseling, and religious institutions. Volunteers offered to contact Jewish Family Services, (Susan and Peg), Places for People (Phyllis), Laura Goldmeir (Phyllis). Our next Sub Task force meeting will be Thursday April 20 at 5:30at Susan's house. Our next Task Force meeting will be Thursday April 27 at 7:00 pm. At Susan's house.
• Minutes from Opportunity to Thrive / Payday Lending Task Force of JUJ on March 8, 2017.While committee members were trickling in, a few general comments were made: Marilyn talked about the Loan program that NCJW offers as an alternative to Payday Loans. These are given at only 5% interest. This is to avoid getting sucked into a pernicious debt trap.

Congratulations on the win for Prop S in the city of St. Louis last night. Prop S imposes fees on the Payday lenders which they cannot pass on to the consumers. Our charge is find a way to take Prop S to other cities and counties. There will be a meeting about this, on Thursday, March 9.
This is held by Women's Voices Raised for Social Justice. Programs are held on the second Thursday of each month, September through May, at 7 p.m. at The Heights (Maplewood-Richmond Heights Community Center), 8001 Dale Avenue, Richmond Heights 63117. Learn more about them here They address both Payday lending and CFPB issues.
Luke Yurkoski – in his first meeting with this task Force, works with MoPIRG, Missouri Public Interest Research Group, which earlier addressed industrial hormones in farming products, have focused on CFPB which is under attack. MoPIRG has also done a lot of research on Payday lending practices and attempted to form coalitions on this issue.
CFPB, the Consumer Financial Protection Bureau was created in 2010, after the financial crisis in 2008. At an August Kansas City meeting the CFPB proposed regulations on Payday Lending. The current administration is threatening to weaken or eliminate these regulations.
To learn more about MoPIRG, please visit their web site
CRC is starting 'Holy Ground' lending in their neighborhood, offering 0% financing thanks to funds raised by CRC members. We will investigate the lending requirements.
Regarding Senator Jill Schupp's efforts in the MO legislature to cap Payday Lending interest rates, we will talk to Senator Schupp about what bills are currently under consideration.
Three [actually four] Charges for this Task Force:

* Payday Lending in municipalities identifying locations where Prop S can be "replicated". This subcommittee should connect with Cara Spencer and work out a strategy. Volunteers fort this subcommittee: Marilyn (chair), David and Richard

* CFPB – Work with MoPIRG on this issue. Volunteers: Luke, Phyllis and Susan Roth (Chair).
* Alternatives to Payday Loans, like Red Dough. Form education groups in conjunction with Marie K of the Archdiocese and others, including MEAAA.. (Richard offered to make introductions to MEAAA Mid-East Area Agency on Aging, if necessary). Also, connect with Sal Valadez who is a labor advocate. Volunteers: Peg, Mimi and Susan (Chair)
* A fourth group dealing with Administration/Technology was formed. Mimi said she would be checking papers, including the St. Louis American, for articles on payday Lending. Volunteers: Peg, Mimi and Cheryl (chair) •The University of Utah and the University of New Mexico present a study on The Power of Community Action:
Anti‐Payday Loan Ordinances in Three Metropolitan AreasEditor's Note: The Study is 152 pages long, for your convenience we've extracted the Lessons from the Study
To get the entire Study e-mailed to you, please click here
Abstract:Local ordinances that restrict payday lending constitute an important strategy in the overall attack on this problematic form of lending. In this report, made possible by the generous support of Silicon Valley Community Foundation, we describe and analyze campaigns in three locales that differ markedly in the opportunities and challenges faced by ordinance advocates.The locales are Santa Clara and San Mateo counties in California ("Silicon Valley"); Dallas, Denton, and Tarrant counties in Texas; and Salt Lake County in Utah. This report finds both commonalities and important variations among these campaigns. While there is no single recipe for a successful ordinance campaign, our comparative analysis suggests the following ten lessons for payday lending opponents and other advocates of social reform via local action. The lessons, in brief, are as follows:Lesson #1:
Form a strong broad‐based coalition and develop rules for its operation.Lesson #2:
Move beyond abstractions like "500% interest" or "debt traps" and gather stories from actual borrowers about the effects of these loans on their lives. Seek the help of social service providers who are part of your coalition in gathering these stories and empowering borrowers to share them at public hearings.Lesson #3:
Seek financial support for campaigns if you can, but never assume that ample financial resources are necessary for a successful campaign.Lesson #4:Involve faith leaders in a meaningful and ongoing way early in any campaign.Lesson #5:Cultivate strong working relationships with the press and create a detailed strategy for working effectively and consistently with members of the local media.
Lesson #6:Identify and cultivate a member of the city council (or county board of supervisors) who will serve as your campaign's inside champion. In some instances, more than one potential champion may be necessary when sensitive politics or rivalries make the choice of a single champion problematic.
Lesson #7:Identify and schedule meetings with city decision makers well in advance of any key votes. Be prepared in these meetings to present strong arguments in favor of any ordinance.
These arguments will depend on local politics. Under some conditions, the negative impact onborrowers will be most persuasive; in others, the impact of payday lending on local economies,crime, blight, and the general image of a particular city will the city will be most effective.Lesson #8:Carefully prepare to respond to industry arguments, especially the argument that there are no alternatives to payday loans. Develop a concrete list of payday alternatives that can be shared with members of the public as well as policy makers early in any campaign.
Lesson #9:Once one ordinance passes, help other municipalities pass similar ordinances in other cities.
Lesson #10:Use the power of your coalition to press for further state and federal payday loan reform in partnership with the many organizations across the country that are seeking to curb payday lending and other forms of high‐cost lending.



Minutes from Jan 25 Task Force Meetings and Action Plans:
• Minutes: Opportunity to Thrive/Payday Lending Task Force meeting January 25, 2017Present: Susan R (chair), David L, Cheryl P, Jerry H, Steve B, Sal V, Richard G, and Laura G. Chair Susan started off by suggesting three subcommittees: Education, Administration and Advocacy.
Education: Involves working with Red Dough and other groups to set up speaking engagements on Alternatives to Payday Lending. Reach out to unions via our United Way contacts. Work with the JUJ Steering Committee on contact with Jewish Congregations. Connect with other organizations such as Faith and Labor. Including networking to identify additional organizations. Work with Jewish Light to publicize our task Force Meetings. If you are interested in participating in this committee, please contact Susan.
Administrative: Reserving room (may be a moot point if meetings are held in private homes). Taking and distributing Agendas and Minutes. Sign-up Sheet. Additional: Keeping the electronic information up to date.
Advocacy: • Work with Cara Spencer in South city - on municipal regulations. This is a priority as there is a Primary coming up in March. David and Steve volunteered to head up this effort.
• Work with MoPIRG (Missouri Public Interest Research Group) on their efforts to strengthen the Consumer Financial Protection Bureau (CFPB). CFPB can regulate without legislation but by imposing fines. It is being threatened , but being undermined by current administration. Jerry signed up to work with MoPIRG.
• Contact Erin Goodyear, Campaign Organizer at Environment Missouri to counter MO legislation.
• Work with State Senator Jill Schupp to influence the blocking of adverse legislation.• Continue to work with Red Dough/Prosperity Connection
• Continue to work with the Archdiocese – Marie Kenyon. Office of Peace and Justice• We have a good working relationship with the Catholics through the Archdiocese, but we need to connect with the non-Catholic Christian community. Susan reported that the evangelical community in Kansas City has taken a firm stance on Payday Lending. Susan has a good friend in the Unitarian church and will connect with her. •Action needed: Coalition Building. •Work with MCU and Women for Social Justice. •Sal Valadez - new to the group – introduced himself. He works for LECET (Laborers –Employers Cooperation and Education Trust) . He is interested in working with JUJ to connect LECET and Red Dough. He has 700 people on his mailing list. His focus is on Immigration. We decided to exchange links for our respective sites. His website is http://midwestlecet.org/index.html
David reported that he has begun visiting Synagogues to enlist the support of the Rabbis. He has been to and scheduled meetings at CRC, Temple Emanuel, and Shaare Emet. Publicity:
Steve suggested that we do more publicity, and several ideas were discussed. Educate people on the Interest Cap removal in the 90's which led to the current abysmal situation. Suggestion: To research states with Interest Caps. The Post -Dispatch has run a series on this issue. Richard will investigate to see if the Press Club's Enterprise Journalism's scholarship can be used for a series on Payday Lending.
NEXT Meeting: Monday, Feb 20 at 7 PM at Susan's residence.


• Minutes and Proposed Action Plan from meeting of the JUJ Opportunity to ThriveTask Force, January 9, 2017 7:00 p.m.
1. Meeting was chaired by Susan Roth, Task Force Chair
2. The meeting was attended by several JUJ members along with key guests and speakers who included Paul Woodruff of Prosperity Connection, Susan Katzman, Board Chair Prosperity Connection, Cara Spencer St Louis City Alderwoman, Mattie Moore Empowerment Specialist Office of the St. Louis County Executive, and Erin Goodyear of MOPIRG.
3. Presentations
After a thoughtful and incisive introduction regarding predatory lending by Susan Roth, Chair of the Task Force Paul Woodruff described the work of Prosperity Connection which includes financial literacy education and financial coaching. He also described their Reddough product which is a loan of up to $500 at 36% interest and with a term of 3 to 6 months. It is a safer substitute for payday lending. They have three offices and work with many community groups and will open a fourth office in south city in March. They also cash checks and do the other activities that Payday lenders do for much less cost,It is a significantly more equitable option.
Paul indicated they could use our help in the following areas:
1. Spreading the word about Reddough and the rest of their work;2. helping them to find volunteer professionals to help with various tasks.
3. Generally being an advocate against predatory lending and in favor of Prosperity Connection and building a community coalition in this effort. Cara Spencer explained the payday lending bill that passed the St. Louis Board of Alderman and the fee portion of that bill which will be on the ballot in St. Louis in March. She requested help from JUJ in the effort to pass that bill.
A motion was made and approved to help with this project. Erin Goodyear explained the efforts of MOPIRG and others to support the CFPB and fight its reduction or elimination They will schedule a town hall and would like our help. 4. ACTION PLAN There was considerable discussion in the audience in favor of helping and various ways of helping were discussed.
A. Set the next meeting in about two weeks
The next meeting will be Wednesday, Jan 25, 2017 at the Jewish Federation in the first floor lounge from 7:00 to 8:30.B. Help the community learn more about Prosperity and Reddough. The plan will include:
1.) In the he Jewish community:
present this information to the Jewish Social Action Network at one of their upcoming meetings and urge each of them to take it up with their congregations. See how this might be highlighted in the Jewish Light 2.) In the general community.David will connect Prosperity with Roz of our JUJ board so they could speak to more unions;Philip will work to connect them with other community organizations with which we have contact such as MCU, Faith and Labor,and the Interfaith Partnership to spread the word. C.) Develop and implement a plan to advocate against predatory lending including: 1.) Working with Cara Spencer on the St. Louis City election in March on the fee associated with the new payday agency oversight legislation. Philip will connect Cara to our ally organizations to suggest educational presentations in February about the initiative. 2.) If this initiative f this is successful take this approach to other municipalities, perhaps St. Louis County, seeking passage of a similar bill.
3.) Working with others including Jill Schupp to make sure that no bad legislation is passed in Jefferson City and perhaps some good bills are introduced. 4.) Work with MOPIRG on keeping the CFPB strong and we will work to connect their effort with those of our ally organizations. 5.) Strengthen our coalition with the Catholic payday lending task force and reach out into the community for more organizational and individual members of our coalition. The next meeting will be Wednesday,
Jan 25 , 2017 at the Jewish Federation in the first floor lounge from 7:00 to 8:30.•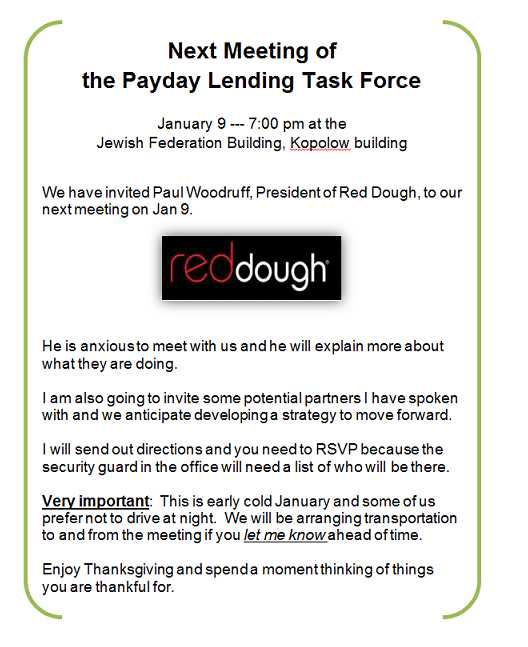 Questions?Ask Susan


STATEMENT: Jews United for Justice - St. Louis supports the proposed regulations for Payday, Vehicle Title, and Certain High-Cost Installment Loans (called "Covered Loans"), and urges the Bureau to make them the first step in efforts to eliminate the most damaging parts of payday lending and other high cost loans. We believe the most important provision in the proposed regulations is the requirement that the lender ascertain the borrower's ability to repay. The lender's responsibilities under this provision include verifying net income, other borrowing costs, net household costs, living expenses and projected estimated net income for the term of the proposed loans. We urge the Bureau to eliminate the Six balloon payments per year exemption and narrow the exemptions more completely. This information will appear onRegulations.gov:First Name: David
Last Name: LanderOrganization Name: Jews United for Justice - St. LouisSubmitter's Representative: David Lander, Chairman This information will not appear on Regulations.gov All of the information will appear on Regulations.gov: For further information about the Regulations.gov commenting process, please visit https://www.regulations.gov/faqs


JUJ Task Force : Opportunity to Thrive - Payday Lending
Meeting, Sept 13, 2016 at the home of Phyllis Cantor; Present: Jerry H, Phyllis C, Barbara Paulus, speaker, Susan R (chair), David L, Richard G, Cheryl P, Mimi S, Henry B and Marie K
Susan called the meeting to order at 7:10 PM and introduced Barbara who will speak about the basics of Payday lending. On the agenda is also to talk about coalitions with other groups and Marie from the Archdiocese specifically will address that. Barbara Paulus from the MCU (Metropolitan Congregations United), where she is a leader (volunteer). MCU is faith-based with between 30 and 40 member congregations at any one time, including CRC.
Payday Loan: Marketed as short term solutions. But two weeks after the loan, the employee owes the debt and they then often have to take out another loan to cover the first, and so on. MO allows the loans to roll-over 6 times and the interest rates can be an average of 453% APR. This is legal, and there is no cap, there are examples of where the loan interest has been up to 1,950%!
Up until the 1990's, there was a cap on the interest at 28%. But then MO legislature changed removed the cap. Four national banks support the Payday lending institutions: Wells-Fargo, Bank of America, JP Morgan Chase and US Bank. All the states surrounding MO have all prohibited the practice of rollover. Other states forbid the Payday lending practice itself. Members of the Legislature, both D and R, have an interest in these institutions and lend their support while opposing any restrictions. One of the worst examples is Nursing homes with Payday lenders inside the Home. Nursing home employees already do not make a lot of money and this obviously make it worse.
The Payday lenders are essentially given a blank check: They can get authorized to deduct loan principal and interest directly from the borrowers ' bank account. The borrower then owes bank fees and paylender fees every time the loan is rolled over.
A group that worked to add a cap chose 36% used that number because it is the number used at military bases. There have been efforts to reduce the practice by the CFPB (Consumer Financial Protection Bureau). They have proposed rules to end Payday debt traps. They have asked for several restrictions, the most important of which is that the lender must show that the person taking put the loan has the ability to pay it back. CFPB says: "lenders would be required to determine whether the borrower can afford the full amount of each payment when it's due and still meet basic living expenses and major financial obligations". The MO House bill 820 (HB 820) introduced a cap at 36% but the majority of the MO House did not show any interest in bringing it up.
There are however alternative sources for lending: Red Dough is one such organization. You can find them here. Cap at 36% and longer periods to pay it back. They currently have 2 locations. Susan suggested we ask them to come to this Task Force's next meeting.
The RedDough Money Center is owned and operated by Prosperity Connection®, which is the Not-for-Profit arm of the St. Louis Community Union.
Marie mentioned the Archdiocese's Commission on Peace and Justice, started after Ferguson. They have made comments on the proposals to change the regulations for Payday lending and Marie will share those comments with us.
As a group, JUJ should invite all Jewish Social Workers to a forum on this topic. Will be brought up at the next JUJ Board Meeting.
Jerry reported that the Southern Baptist Convention - maybe a little surprising to some - has made a strong statement against the practice of Payday lending.
The group agreed that it would be a good idea to invite Red Dough but that it was important to make sure we are not seen as "surrogates" for them.
Other groups mentioned were Women's Voices Raised for Social Justice and of course NCJW which provides loans to women who have been abused.
Meeting adjourned at 8:01 PM.



News: August 14
Dear Friends, We are in process and have been making some excellent contacts this past month. We have a speaker for our Sept meeting. She will be educating us on Pay Day Lending, as well as the Consumer Financial Protection Bureau's Resolution (a federal agency)., so that we will understand and be better equipped to talk about it and educate others

We are continuing our coalition building efforts. Jerry Hochstein and I will be scheduling a meeting with Jobs with Justice to discuss our mutual goals and how to work together.

David Lander and I also met with Marie Kenyon, head of the Office for Peace and Justice for the Archdiocese of St Louis. She is very interested in what we are doing. She has a lot of contacts within the Catholic community, particularly social justice groups and social work groups. We talked about how to "spred the word" to people who might benefit from knowing about alternative lending institutions.

For example, in our community, this might be social workers in JFS, the Kornblum Food Pantry, and others. A "symposium" might be a good idea or other type of meeting.

Marilyn Ratkin has also met with the President of the Women's Voices for Social Justice who are also working on Pay Day Lending

David Lander has started making contacts within the Evangelical community, which has been speaking to their community about Pay Day Lending.

And Jerry has been doing some research for us on various issues related to Pay Day Lending in Mo. and nationally.

So your efforts are greatly appreciated as we appear to moving forward with this important issue.

LOTS been going on and I look forward to seeing you at our Sept meeting.



Town Hall - Minutes from the July 18 meeting:
PAY DAY TASK FORCE UPDATE I hope you are all enjoying your summer.
I have e-mailed the person (from Metropolitan Congregations United) recommended to us by Jill Schupp to provide an educational program for us and am waiting to hear from him

I have set an appointment with Lara Granitz at Jobs with Justice. It is for the third week of August. Her group has been working on getting a ballot initiative on Pay Lending .

I have also sent an e-mail to the Director of Catholic Legal Service. I am waiting to hear.

Jerry Hochstein on our committee has volunteered to do some research for us. He plans to focus on potential allies we can meet with. He will also do some research on the location of Pay Day lending places for us as well how many states have payday lending laws on the books and some cap on interest rates.

Karen Tabak has also contacted Red Dough, the alternative lending institution that we have talked about to see if they will come to her class at Maryville University. She has invited us to participate, when she hears from them.

If any of you have additional ideas or would like to come with me to meet these people, please let me know.

I will set the day of the next meeting when the speaker is available. Thanks for help and your interest in moving forward. Susan Roth



June 15 Meeting - Payday Lending Task Force
Meeting: June 15, 2016
We had a brief meeting because several people were unable to attend, although there was a new member present. Because so few people were there, it was decided to wait until after the July 18th Town Hall meeting at Bnai Amoona before meeting again.

In the meantime David and I met with Cara Spencer, who is an alderman (woman) from South City who is planning to try to get some recommendations on their upcoming ballot. I attending the hearing in front of the Board of Alderman in which she presented her ordinances in preparation for the July 8th Board meeting to decide if her ordinance will be put on the ballot.

Her approach is very interesting because she would like to use the already existing regulations on zoning and permits in her area to include PayDay Lenders. These regulations are already on the books and State approval is not required. Her overall idea is to see if additional city municipalities could use the same approach, but this could be a start.

I will see you at the Town Hall meeting on July 18th.



Notes from Meeting on May 17
We reviewed what predatory and payday lending is and why it is so pernicious in lower income, often "unbanked " communities.
I met with some contacts I had in the progressive community, partly to see what else was going on in this area, make contact with other groups, to see if we could partner with them, so we don't have to "re invent the wheel" and to find out alternative lending programs in the various communities.

April Meeting
On April 13 we held our first meeting. We focused on Predatory Lending. We discussed the significance of Predatory Lending in poorer communities. We developed a strategy for moving forward which involves researching other groups which are doing advocacy (legislative) work and those groups setting up alternative loan sources from payday loans. Our purpose at this time is to meet with some of these groups for the possibly partnering.
Back to our Workgroups Page